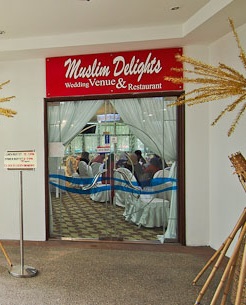 Muslim Delights
Sink your teeth into one of Singapore's Top 5 restaurants, right here at The Grassroots Club. Pick from their Indonesian nasi padang-style dishes such as ayam masak merah, sotong hitam, sambal goreng, and many more!
For booking or event enquiry, please call 9633 0261
Also known for it's Halal catering services, Muslim Delights was the choice of Singapore Idol, Taufik Batisha whose wedding party in February 2015 hosted 3,000 guests as well as Radio DJ Syah Ibrahim who hosted 6,000 guests at his wedding in November 2014.
Muslim Delights at TGC will provide theme parties such as Penang Fair, BBQ Fiesta, Arabian Night and much more. So if you are planning a function or seminar at TGC, choose from our corporate packages for seminars , company retreats and annual dinner & dance, even kids' birthday parties.